SOUTH BAY BROMELIAD ASSOCIATES (SBBA)
<![if !vml]>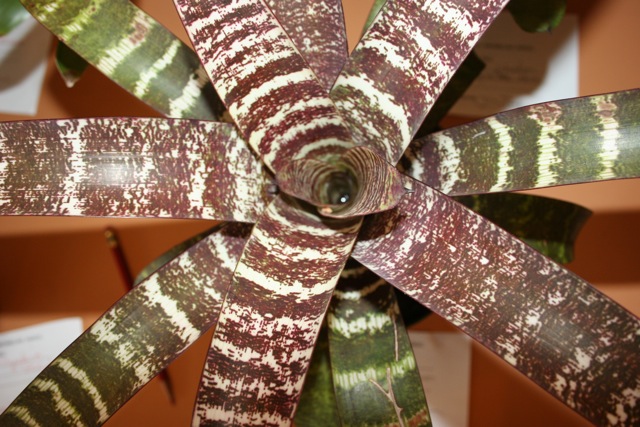 <![endif]>
                                                        Vriesea gigantea var. seideliana 'Nova' (photo by Katherine Poehlmann)
About SBBA
Our club was founded in 1968 by enthusiasts who collect and nurture tropical plants, notably bromeliads. Members often belong to several clubs with specialty interests in orchids, cactus, succulents, begonias, and many others. Our members range in experience from new growers to those with decades of growing experience.  Bromeliads are easy to grow and offer a great range of beauty and interesting forms. Shown above: Neoreglia 'Orange Glow.' [Photos by Katherine Poehlmann unless otherwise indicated]
(For a printer-friendly version of this page, click here.)
SBBA Meetings
Regular monthly meetings are held on the first Sunday of each month except July—club picnic, August—annual show and sale, and December—holiday party.
We meet at the Community Room (second floor) of the Palos Verdes Main Library, 701 Silver Spur Road from 1:30 to 4:30 p.m. Parking and admission are free. Here is a map to the library.
Our meetings feature a speaker presentation, refreshments, a show-and-tell display of members' plants, and a door prize drawing at 1:30 p.m.
Guest Speakers present slide shows of trips to Bromeliad habitats, botanical gardens, methods of growing Bromeliads, or demonstrations of potting and growing techniques. Sometimes they bring special plants for sale.
An exciting plant auction is held at each regular meeting, where attendees can buy Bromeliads, often at bargain prices. 
Our portable SBBA Lending Library contains outstanding books on the cultivation and identification of Bromeliads, available for checkout to club members.
Guests and visitors are always welcome!
Membership
Annual dues are $10 per year per household (individual or family), for which will receive a monthly newsletter and may participate in all club parties and special events. A member privilege is selling plants at our club auctions and plant sales. You are invited to join the SBBA to enjoy the friendship and knowledge shared by our members. 
           For more information, contact Ted Johnson: (310) 541-4185.
Our club is an affiliate of the Bromeliad Society International. BSI graciously allows us to present SBBA-specific info on these pages. Here are the many benefits of BSI membership: http://www.bsi.org/bsi_info/BSIBenefits.pdf
Upcoming SBBA events
February 3rd Program – ECUADOR:  Bromeliads' Paradise
If there is one country on earth that offers such a variety of habitats it's Ecuador: desert, coast, Andes, Amazon Forest, Pacific Forest. It is not surprising either that the country is the second largest population of bird species in the world. The country also offers a cornucopia of bromeliads from all different habitats: Tillandsia, Vriesea, Griggea, Pitcarnia, Puya, and Guzmania. The presentation will cover the whole country from 5 separate trips.  Note: This presentation is part one of two.
Guillermo Rivera, born in Argentina, is one of our most popular speakers. He is the owner of Plant Expeditions (formerly South America Nature Tours), offering specialty tours for the last 18 years throughout South America (Chile, Argentina, Brazil, Peru, Colombia, Ecuador), Mexico, South Africa, Madagascar, and Namibia. The emphasis is on bromeliads, orchids, cacti and other succulents.
He is a former researcher at the University of Cordoba, Argentina. He holds a B.S. degree in Biology from the University of Cordoba, an M.S. in Marine Biology from Northeastern University, and a PhD in Botany from the University of Cordoba.
Upcoming tours for 2019 and 2020 can be found at www.plantexpeditions.com  These include Namibia, Brazil, South Africa Namaqualand, Peru, Madagascar, Argentina-Chile.
This & That
Rainforest Flora Nursery is a frequent venue for the annual SBBA show and sale in August. Located at 19121 Hawthorne Blvd, Torrance, CA 90503, their website is www.rainforestflora.com. Take a vicarious tour through the magnificent display area, with waterfalls, koi fish, and a wide variety of exotic tropical plants—bromeliads, tillandsias, orchids, and ferns—through this four part series:
Part 1: http://www.youtube.com/watch?v=oTLOMjRS3FE&feature=relmfu
Part 2: http://www.youtube.com/watch?v=_p1kHj1jHcI&feature=related
Part 3: http://www.youtube.com/watch?v=LdEoZ0_jzGw&feature=relmfu
Part 4: http://www.youtube.com/watch?v=JIgPZMjbxWE&feature=relmfu
Mysteries Solved! See what happens in the garden when you're not looking. View this enchanting video, enhanced with music in the background: http://www.youtube-nocookie.com/embed/xHkq1edcbk4?rel=0
Dave's Garden is the hands-down favorite website of gardeners around the world. Articles and videos show how to start seeds and learn how to have your best garden ever. Members can chat with other gardeners in 230 forums, and get help to identify plants, pests, birds and butterflies. Membership on Dave's Garden is free and allows you to participate in dozens of forums, plus PlantFiles, BugFiles, BirdFiles, the Garden Watchdog, maintain a personal garden diary, trade list, wish list, and many other features. This article, "Introduction to Bromeliads," http://davesgarden.com/guides/articles/view/1648/ was written in 2008 by Geoff Stein. It offers marvelous photos and cultivation advice for some of the bromeliads that are found in the landscapes and greenhouses of our SBBA club members.
Tips and Techniques:
►California is in the midst of a severe drought. You can help by reducing water usage in ways you may not have considered. Here are some useful tips: http://www.bewaterwise.com/tips01.html.  One way to reduce evaporation in the garden is by using organic mulch. L.A. County offers free mulch at eleven sites. Bring a shovel and fill your own bags. http://www.lacitysan.org/srpcd/mulch_giveaway.htm shows locations, open hours, and details. Recirculating ponds, rocks and paving instead of grass, drip irrigation systems, and xerographic plantings are a specialty of landscape designers like EnviroscapeLA in Redondo Beach, CA. Get ideas here: http://enviroscapela.com/ Owner Mike Garcia offers free workshops. Learn how to save up to 90% of otherwise wasted water and still have a beautiful, sustainable garden.
► Do you suffer from seasonal allergies? www.pollenlibrary.com is a very useful website to identify trees, weeds, and grasses that may trigger allergic reactions. Enter your zip code in the search window. You can list All allergens or Significant or Moderate, shown by season and/or species.
►"What's Eating Me? Clues to Bug Destruction from a Tropical/Succulent Point of View." Geoff Stein has written an excellent illustrated article on parasites and pests that attack the kinds of plants we collect. http://davesgarden.com/guides/articles/view/2932/  Geoff describes himself thusly: "Veterinarian and Exotic Plant Lover…..obsessive, compulsive collector of all oddball tropical and desert plants."
►How to make a "gutter garden" for growing veggies from seed in a small yard.
►Preparing bromeliads for show or sale.
          ►How to make your own inexpensive plant tags.
          ►Free bagged used coffee grounds on request: Call 3-hours ahead to your local Starbucks and ask for used grounds for composting. You can also arrange for regular pickup (e.g., once/week at a specific time). More info on coffee grounds for composting: http://www.sciencedaily.com/releases/2008/07/080707171641.htm
Special Events:
► Check http://californiagardenclubs.com/content/cgci-calendar to find out what's scheduled for Southern California each month.
► The South Coast Botanic Garden on the Palos Verdes Peninsula, CA, offers visual delights and activities of interest for all ages. Open 364 days per year, 9 to 5, admission is free on the third Tuesday of the month. Annual membership includes reciprocal admission privileges at hundreds of other botanic gardens across the USA. For details, see http://southcoastbotanicgarden.org/ 
► Pam Koide-Hyatt (owner of Bird Rock Tropicals nursery) and Jeff Chemnick (owner of Aloes in Wonderland nursery) are organizing another Tillandsia/Bromeliad EcoTour to southern Mexico (Oaxaca and Chiapas) April 8-April 21, 2019.  This is a repeat of the highly successful pre-conference tour for the Bromeliad Society International World Conference held in San Diego, California in 2018. Pam has been researching tillandsias in Mexico for over 30 years and is a highly regarded world expert on the genus, Tillandsia. As a grower and hybridizer, she has introduced many species and varieties into cultivation. Pamela is a frequent lecturer at national and international conferences. Jeff has been leading botanical ecotours throughout Mexico for over 35 years to show groups the most sought-after plant families in the country.  He is a member of the IUCN Cycad Specialist Group and is currently co-authoring a book on the cycads of Mexico. See https://www.mexiconaturetours.com/
Details on the April 2019 EcoTour are available from Jeff Chemnick, Aloes in Wonderland, 114 Conejo Road, Santa Barbara, CA  93103 Email: jeffchemnick@cox.net. A species list of bromeliads and tillandsias observed on the May 2018 tour are listed here.
► Classic Bromeliad book available for sale.